Since I havent' shown the state of the front garden lately now seems like a good time! The daylilies are blooming like crazy (at least the yellow ones are). I'll start with a long shot of the arbor from up the driveway. There are three moonflower vines planted at the base of the arbor that should take off very soon. They like the heat and thrive when temperatures skyrocket in the summer. Next to the arbor is a crape myrtle that looks like it should bloom this year. Our cooler summer temperatures last year never allowed the crape myrtle to really get blooming.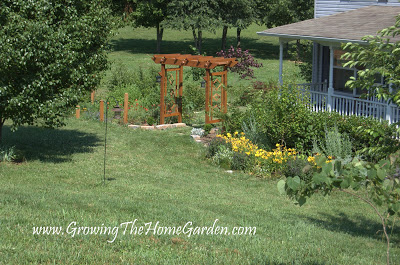 Here along the sidewalk are a mix of salvias and daylilies. In between each of these pairings I planted a purple ruffled basil. I thought the ornamental quality of the dark purple ruffled leaves was perfect combination with the yellow daylilies. The basil is very small right now but should grow fairly fast.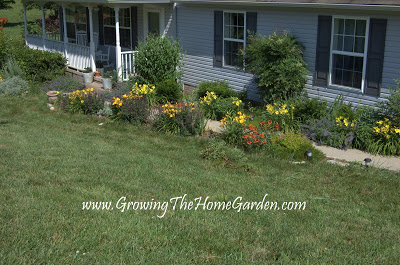 Here's a picture of the sidewalk and its plantings. On the left is a red gaillardia descended from an 'Oranges and Lemons' gaillardia. The seeds don't come true for that one. On the right is another standard plant I put in everywhere – catmint! 'Silver mound' artemisia is pouring over the sides of the sidewalk closer to the house. If you remember photos from previous years in this spot you might recognize something that this garden is missing – Russian sage (Pervoskia atriplicifolia). Don't worry I still have lots of that (As long as I have sun I will have Russian sage!) I just decided to move it. It was a bee magnet which is great but I did receive some complaints about the bees along the walkway. They never bothered me! You can't even tell but I removed at least five daylilies from this area too. I'll show you the new area I planted with the Russian sage and daylilies soon. It needs to be a little more presentable!