This Sunday's weather was gorgeous. A little cooler than we've been having but a great day to get out and get some big jobs done. I spent much of the day mowing and preparing the vegetable garden then went around taking pictures of the gardens. Things are coming along nicely but there was one issue I'm not too pleased about: powdery mildew! I found the white powdery looking substance on my coral honeysuckle. Mildew of course is brought on by warmth and wetness. We've had both of those in good supply this spring. Most of the time powdery mildew is a summer issue for us.
Treating Powdery Mildew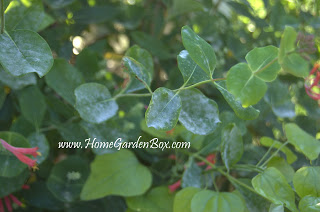 To treat my powdery mildew issues I'll be using neem oil and a baking soda solution. I'll alternate the two on a weekly basis until the signs have diminished. Neem oil is made from the neem tree and is a good organic solution to fungal issues and some pest issues. For a baking soda solution mixing 2 TBS of horticultural oil with 1 TBS of baking soda and a gallon of water. Sometimes adding a drop or two of liquid dish soap helps to mix the ingredients together.
Improving the air flow around the infected plant will also help with the powdery mildew problem.
Have you seen signs of early summer problems already popping up due to the strange weather this year?