I wanted to share a few more pictures from my visit to Cheekwood Botanical Gardens the other day but also wanted to give you a Friday 5 post so I thought why not put the two together? For today I'll give you 5 Great reasons to visit Cheekwood and show you some of the great features I saw during my brief visit on Monday.
Awesome plantings that are changed with the seasons! What could be more seasonal this fall than the quintessential mum? Cheekwood has an amazing display of mums planted enmass. Backdrops of other perennials really enable the colorful mums to pop out at the visitor. Nearly any time something is planted in a mass planting it impresses! The backdrops in the picture to the right include canna lily and Salvia leucantha.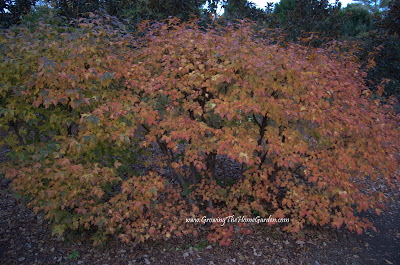 Ninebark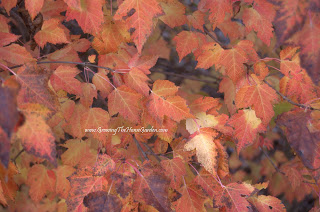 Ninebark
Cheekwood is a great place to learn about new plants, different plants, or how to use a plant. Nearly every plant or plant group is labeled to help visitors identify them. The plant diversity is amazing. I overhead one person mentioning how when they were first gardening they came to Cheekwood to identify plants from her garden that she did not know. Not only do you learn the identity of the plants but you also can see how they were used in the gardens and what plants they were planted with which is extremely helpful.
Themed events happen all the time at Cheekwood. Right now themed scare crow decorate the garden ranging from books like "Where the Wild Things Are

", to local art production groups, and even to local doctors offices. OK…you may not think a local doctors office could offer much as far as a scarecrow is concerned, but when it's in the form of a giant syringe man who looks more happy to give you a shot it could be pretty scary! They have had trains featured at Cheekwood this year in addition to tree houses and a pumpkin patch.
The Japanese gardens are stunning too. I didn't get to travel through them since I had to drive my son in his stroller over steps and gravel walkways but even from a distance the Japanese garden was impressive! Rounded hills nestle plantings of evergreens and perennials while Japanese styled structures give the area the proper dose of character!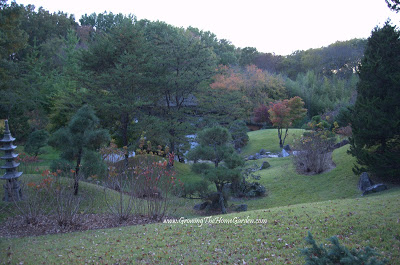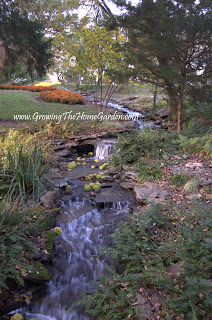 Tranquil water features make great locations for photos or just for having a picnic. A stream with bridges feeds into two ponds that are connected by a waterfall. Cheekwood achieves a good blend of open spaces, planting areas, and landscape features.