I've propagated many plants over the years and one of my favorite plants to propagate is Russian sage. Yesterday I was able to transplant several Russian sage cuttings (Perovskia atriplicifolia) into pots to grow for a little while until I can plant them in the garden. In this post I'll describe how I propagate Russian sage from cuttings.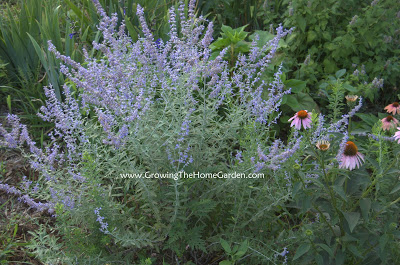 A couple weeks ago I took nine cuttings of Russian sage that were about 4 inches long and placed them in sand after putting some rooting hormone on the cut end. In less than two weeks there was significant rooting and all 9 cuttings successfully rooted.
Check out the root system on this Russian sage cutting in the picture below!
Internode: The new roots come out from the sides of the stem and not just the cut end which means it will produce internodal root.
What are Nodes?
Nodes are where the leaves and branches form on a plant and so the internode is the area between the nodes. Many plants will form roots only at that node and so if you take cuttings of those plants your cuttings need to be taken just below the node. In the case of Russian sage cutting beneath the node isn't necessary since the roots will form all along the stem. The cutting in the above picture has about 4 nodes along the stem. If you take cuttings of Russian sage I would recommend making a similar cutting to the picture with about 3 to 4 nodes.
How to Propagate Russian Sage – Video
Here you can see me walk through the steps of taking cuttings of Russian sage.
Success in Propagating Russian Sage
The video below uses the same cuttings from the video above. You can see the results and learn what I think of sand vs. seed starting mix as a rooting soil medium.
After Rooting Russian Sage Care
Once the Russian sage cuttings root you want to get them into a potting mix so that the nutrients in the soil will help feed the plant. If I were to leave them too long in the sand medium I use for cuttings the new plants would eventually fail.
These cuttings are now in a morning sun only location to get acclimated for the outdoors. I will gradually move them into a more sunny location so that I can plant them in a full sun location.
In the middle of the potted cuttings you can see two very tiny Russian sage plants. These were a discovery I made yesterday when I moved one of my Russian sages to a new garden bed (future post). It's always nice to find unexpected seedlings. These should be very similar to my 'Longin' Russian sage since that was where I found them, but as always with seeds they may not be true, but probably true enough!
A couple of these will new Russian sage plants will go in the garden, a couple will be given away, and a couple will be traded. The seedlings will also go in the garden. Since I potted up my nine Russian sage cuttings I had room for some more cuttings in the garage. I added fourteen new cuttings this morning! I love free plants don't you?
Here are a few resources that may be helpful in Propagating Plants. (Am. Aff links)
From Growing The Home Garden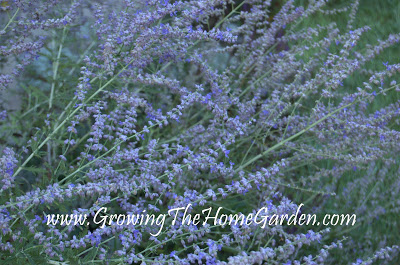 Why I Love Russian Sage in the Garden
Russian sage is attractive
Russian sage has a lot of extremely good properties that make it worth planting in the garden. It is obviously and attractive plant. The purple/blue flowers that emerge on tall spires are very attractive and can be planted well with a number of plants. It goes well with roses, coreopsis, verbena, and many other perennials. Russian sage can be used in front of evergreen plantings to add some summertime color with a green backdrop.
Good Companion Plants for Russian Sage
Rudbeckia (Black Eyed Susans), Echinacea (coneflower), Verbena, Achillea (Yarrow), Butterfly weed (Asclepias tuberosa), Daylilies, Asiatic lilies, Artemisia 'Powis Castle'.
Russian Sage is as Deer Proof of a Perennial as they come!
Russian sage is also DEER PROOF! I have deer issues in my garden and the deer stay away from Russian sage. I can't say that for many deer resistant varieties. Often deer will sample just to see if they like something but they never worry with my Russian sage plants. That could be due to the strong aroma that the leaves have when touched or brushed against.
Russian Sage Attracts Pollinators
Russian sage attracts pollinators to my garden in droves. When in flower my Russian sage is loaded with bees of all types. It also attracts butterflies and hoverflies which are beneficial insects.
Save
Propagating Russian Sage with Cuttings
Here is summary of the steps to take for successful Russian sage propagation:
Take 3-4 node cuttings (about 4 inches long) using a clean pair of pruning shears or scissors.
Treat the cut end of the Russian sage cutting in rooting hormone (not absolutely necessary as Russian sage will root without additional rooting hormone).
Place your cutting carefully in sand or other rooting medium. Use a pencil to dib holes in the sand to help prevent breakage of the soft stems. (It's really frustrating when you damage a cutting!)
Keep the cuttings moist using a mister or tent the cuttings with a bag. Water loss through transpiration is the primary reason most cuttings fail. I had really good success but I've lost other cuttings, you will lose some cuttings at some point!
In about 2 weeks check for resistance by giving the cuttings a gentle tug. If there is resistance carefully check for roots.
If there are roots on your cuttings transplant the new plants into pots with a good potting soil. If there are no roots and the cuttings are still healthy stick them back into the medium and wait another week.
A Couple Additional Tips on Russian Sage Propagation
While taking cuttings carry a water jar with you. Put the freshly taken cuttings in the jar while you gather other cuttings. This will help reduce water loss until you have several cuttings collected to stick.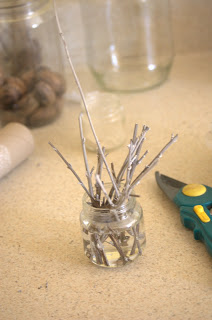 Russian sage will root from hardwood cuttings as well. It is treated as a perennial but is really a subshrub. Branches will turn into hardwood in the fall and those branches can be used to make cuttings over the winter.
Best Growing Conditions for Russian Sage
Russian sage is a tough perennial that can thrive in tough places. The one thing I have noticed that you need to avoid are excessively damp conditions. Too much moisture may cause rotting in the roots and death to the plant. A well drained location in full sun is ideal for Russian sage. It isn't picky about the soil so as long as its roots are not too wet.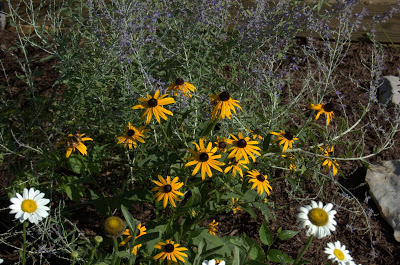 Russian Sage Varieties
There are many varieties of Russian sage (Perovskia atriplicifolia) you can pick for your garden. Here's a short list of a few you may want to research and plant in your garden: Blue Jean, Blue Spires, Blue Steel, CrazyBlue, Lacey Blue, Little Spires, Longin, Peek-a-Blue, and 'Rocketman.'
Save