After my post yesterday about the Snowy Owl Visit to Spring Hill, TN, Pete sent me a few of his pictures of the owl. He was able to get much closer to the bird than I could and his pictures are fantastic! He prefaced the pictures with a story that I'll share with you in this post.
I am a wildlife lover, but never have been much of what I would call a birding specialist in any way. I have spent a lot of my time over the years in the woods and have never had any encounters with Owls until about a month ago.
The first was when my son and I were headed to the woods about a month ago. Simple enough, the owl was on an electrical wire when we passed. I backed up and he was gone. Not a Snowy Owl, but in Maury County, TN.
The second was a couple of weeks ago when I was walking around in the woods when a big bird flew up about 10 yards in front of me into a tree. It was a big brown colored owl similar in size to the Snowy Owl I have now seen. I got some great looks at him, but no camera. Also in Maury County, but I don't think it was a Snowy Owl. I have now learned that the female Snowy Owl has more brown in its color, but I still do not believe it was a Snowy Owl.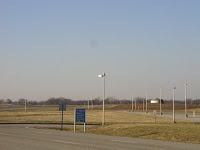 I have been working at the GM plant for 14 years now and I am usually in the office before daylight, but this Wednesday, I was going in a little later. I see a lot of Redtail Hawks around the sight and am always watching for them. The sun was rising, but not yet up, when I came to my turn into my parking lot. It was a beautiful orange radiant rising sun. I noticed that there was a big bird on a light pole which I initially assumed to be a hawk, but it was too white. Upon further inspection, I actually did the loop and came around a few times when I figured out it was a BIG white OWL. I thought WOW, I have never seen anything like that before. I went ahead and went into work after watching him for a while. He actually flew down into a field and back up one time. Later yesterday, my wife called me and said that my neighbor had stopped by and asked about the Snowy Owl on the GM site and I was shocked at the coincidence. He is an avid photographer and takes a lot of photos of birds and the like. This morning I was not working but decided to go with a camera and see if I could spot him again. He was very close to where he was yesterday morning although it was about 8:30. The attached shots are the best I could do with my snapshot digital camera, but there are some decent shots.
I may try to take my neighbor over and get some better pictures. I think he has a 300 mm lens. I was less than 50 yards or so from the light pole. I hope you can share them and enjoy them.
Here are some of Pete's photographs of our local celebrity, the Arctic owl!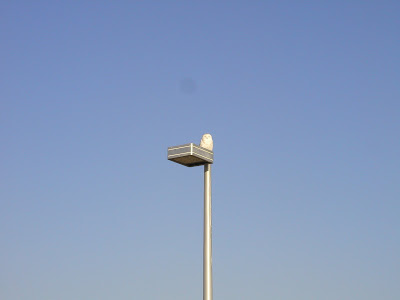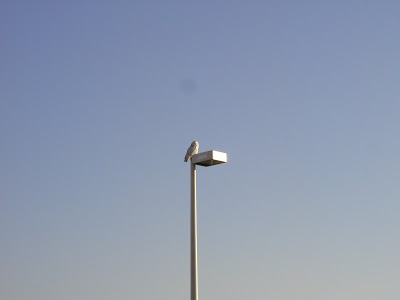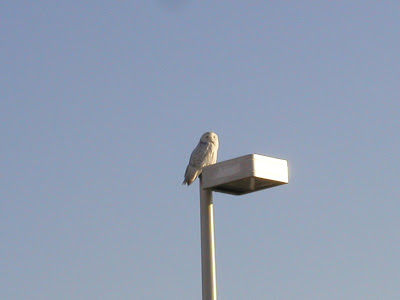 Thank you Pete for sharing your photos and story!