The weather this past weekend was perfect. No rain, lots of sun and warm temperatures have given all the plants the kick they need to break their dormancy. Hopefully they will remain safe from any heavy frosts.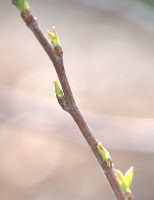 I'm looking forward to seeing the blooms on this Sargent Crab Apple (Malus sargentii). It was a just sapling a few years ago (sent as one of 10 free trees from the National Arbor Day Society) and now stands somewhere near ten feet tall. This native of Japan has grown very fast with a full sun location in our front porch garden.
The newest tree addition to our gardens is a Yoshino Cherry. It's the second Yoshino that I've added in the last two years. This one has found a home behind the rain garden where it should receive a good amount of moisture in a full sun location.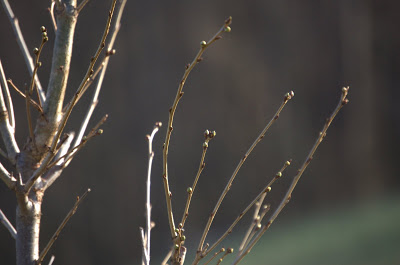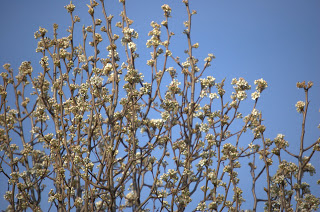 Here's another shot of our
Bradford pear tree
. The warm weather has signaled the pear trees in our area to begin their blossoming, effectively turning our neighborhood into the land of Q-tip trees. Pretty but way overdone!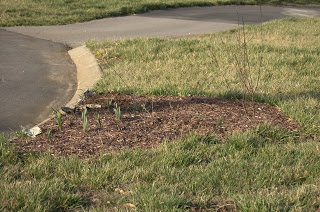 This sad little corner of our yard will grow up in time. In our front curb garden I planted a few forsythias, daffodils and a purple leaf plum tree. I was lazy and didn't bother to mulch until late in the season last year. Originally the plum tree was in the
Birdbath Garden
(
original layout
) but I moved it further away from the deer as it seemed to be a delicacy. The forsythias are tiny but will grow larger over time. They came from last year's plant swap and the
National Arbor Day Society
. When they grow a little larger I'll transplant them further apart. Forsythias are very easy to propagate by tip layering or through cuttings.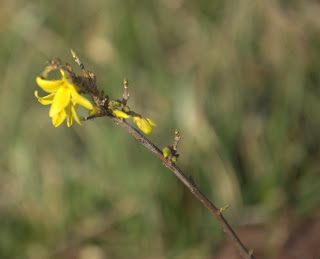 Only a couple of flowers have bloomed on the forsythia and I really don't expect many more this year from these young plants. This year will be a year of green growth for them.
One of the
hyacinths that I lost
is blooming beautifully. I'll have to move it after the blooming is complete since it is partially underneath a landscape timber.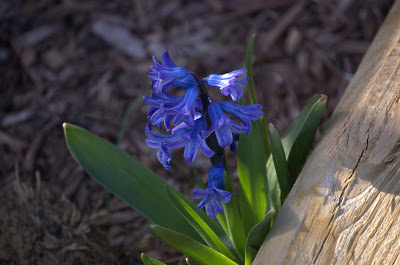 I believe this is Sedum seiboldii. I was worried that it wouldn't come back this year but thankfully my fears were unfounded!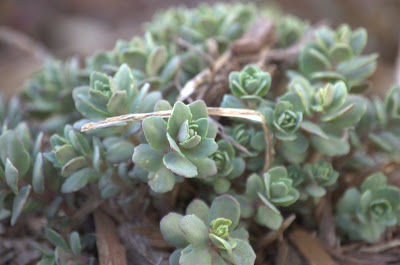 Here's my favorite sedum, 'Dragon's Blood'. I like it partially because of the name (I'd still like to get a little dragon statue to put next to it) and partially because of the burgundy colored foliage.
Things are definitely shaping up for spring!