Dave,
I had a Yoshino Cherry Tree planted in late May and I'm noticing holes in most of the leaves. I am asking you if you know what pest may be attacking it…and if it is under attack, what treatment does it need?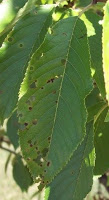 The answer to your question is leaf spot disease, not exactly a pest of the insect kind but rather a fungus. The fungus forms little brown-black spots on the leaves that eventually fall away from the leaves which leaves the leaves with an extremely spotty appearance. It's almost like the neighbor's kid was out with an automatic BB gun. If the fungus spreads, like fungi do, it will cause enough holes to interrupt water from getting to the leaves which causes the leaves to yellow and eventually drop off. On healthy established trees this may not be a big problem but younger, newly planted trees may have more of an issue.
Once leaf spot disease is established you can't reverse the process, but you can prevent it from spreading. A fungicidal spray may be effective in prevent it form spreading. There's even an organic control using baking soda that should do the trick. The leaves will remain damaged until new one's replace them in the spring.
Prevention is important but during the hot and dry months the chances of it spreading further are slim. Warm and wet springs provide a great environment for leaf spot disease to thrive. Good watering practices can ensure that it won't continue to spread. Water at the base of the tree and not the leaves. Also clear out fallen infected leaves to prevent spores from finding new "spots" to roost!
For more information check out these sites: