Here is a post I meant to publish over a month ago and it just got lost in the abundance of things to talk about this growing season! I have added a couple updated pictures.
In our corner shade garden we have hostas, heucheras, an oak leaf hydrangea, coleus, and astilbe. It's fun to play around and see what plants look good together. I don't have much shade to play with and so this garden gets filled to the brim which can create some neat variations on the shade theme.
The first combination here is the white flowering astilbe in front of a 'Mocha' Heuchera. 'Mocha' has some really dark foliage which would also look great next to some lime green heucherellas or hostas.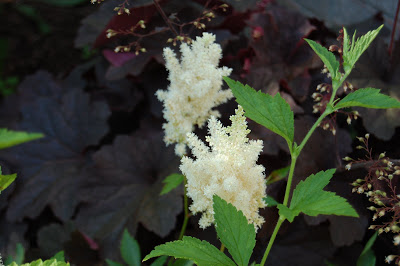 The other combination I'm pleased with in the shade garden uses only heucheras. Earlier in the spring I wrote about
wanting to add 'Silver Scrolls' heuchera
to the corner shade garden. Here in the picture you can see why.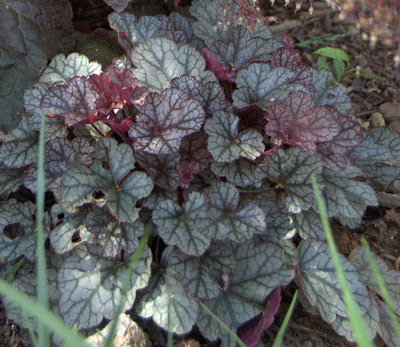 The silver tinted leaves with greenish-burgundy variegation are simply really cool. Now when you mix it together with a solid color heuchera, like 'Palace Purple' it helps to accentuate the variegation even more. In the two pictures below the one on the left is from June while the one on the right is from July. You can see how fast 'Silver Scrolls' grows to fill in the area. This fall I'll be dividing the 'Palace Purple' to keep the competition between the two perennials down and to make a few more plants! (Seems like I'm always doing that!)