This afternoon the temperatures dropped enough for work outside to become "feasible." Not ideal in any sense of the word simply feasible. Add to that this cough, sinus drainage, and a mild case of pink eye and you would think I would just stay indoors and rest. Not so for this dedicated (or dumb) gardener!
My oldest daughter accompanied me outside this afternoon to plant a few plants that I haven't had the time to add to the garden until now. Yes this is another instance of the dedicated (or dumb) gardener planting plants in almost 90 degree heat but it had to be done eventually. It's one small step to reclaiming the garden from the June heatwave and the episodes of ailments that have been floating around our house. The good thing about each of these three plantings is that their locations are all somewhat to completely protected.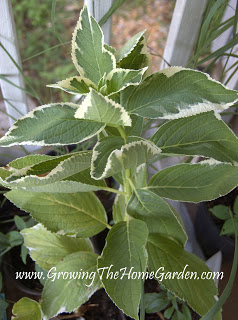 The first to go in the ground was my variegated lacecap hydrangea ('Mariesii Variegata'). It's now in the garden next to the arbor. It's fairly protected which should suite it fine since on one side is our front porch and the other a young Japanese maple.
The next plant was an Alabama Sunset Coleus that I found for $0.50 last week. It's near the arbor too. When this growing season comes to a close I'll propagate a few and try to overwinter them in the garden shed.
'Sum and Substance' Hosta was the third plant I added to the garden today. I brought it home from the hosta garden tour a couple weeks ago. I'm playing with fire here since I have deer and hostas are on their favorites list but I had to add this large leaved beauty. It's foliage is a chartreuse green that should look very nice underneath the 'Forest Pansy' Redbud.
Adding plants in the summertime isn't always the best idea but it can be done as long as the plants are watered frequently. I definitely wouldn't advise transplanting plants during the summer since that is best left for fall when the temperatures are much more forgiving. I have a hole slew of plants that need moved but now is the time for list making and definitely not the time for transplanting.
A Note from Dave: Posting and commenting will most likely be more irregular than usual over the next several days. Our new addition will be here any time…!