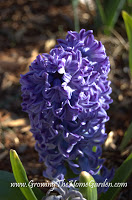 The holidays are almost past and that means it is time to start thinking and planning for the spring garden. Below are 5 things to do to start planning for that spring garden. Aside from getting a better start each year making the to do list puts my mind on the sunny days ahead rather than the cloudy cold days overhead!
1. Get rid of the old catalogs! I have a habit of keeping the old seed catalogs way too long. This year I'll recycle any that aren't current. Some people like to clip out their favorite plants from those old catalogs to save in a notebook of some kind for future reference – I'm never disciplined enough to do it but I do think it's a great idea! Of course you can do that digitally with the online catalogs or take photos of the current ones to save on your computer which can help reduce clutter.
2. Evaluate the garden. Go back to last year and figure out the plants that did well and those that didn't. Then plan on replacing the poorly performing plants with other plants that have similar characteristics to those that did well. It's always helpful to make a list of the plants you grow in your garden for this purpose and evaluate each year. That's one reason I love the blog – I can look back at my garden and see a visual record of everything.
3. Plan the garden budget! Here's another task I fail at often. Either things cost more than I plan for or I get the impulse buy. Having a set budget will help to control your spending (or overspending). I tend to think in categories like "seeds and seed starting supplies", "plants", and "project materials." Plan the plants you need to replace. If you regularly buy annuals you know these are a reoccurring expense so plan ahead for them. The same goes for vegetables like tomatoes and peppers. If you are planning a major project like a new deck or a garden shed (I can speak from experience here) plan on it costing more than you think! Add at least 10% more to cover materials and possible as much as 25% more to give you a lot of wiggle room. If you come in under budget all is well (and you have a nice savings ready to buy new plants!)
4. Once you have your garden budget purchase your seeds. I've noticed that many retailers offer discounts for early shoppers. This may be more in the plant area than the seed department but is still worth noting. I like to order mainly heirloom seeds and plan on ordering from Baker's Creek. I've found their prices reasonable and their catalog will just make you hungry by looking at it! Other companies are out there like Renee's Garden and Seeds of Change who also have a great reputation.
5. Get ready for later winter early spring cleanup! I always let my perennials stand with their dead branches held aloft and wait until late winter and early spring to cut them back. The extra canopy helps protect the crown of the plant from the cold by making an insulating pocket of air. It may not help all plants but those who are a little finicky when it comes to cold stand to benefit from the standing foliage. In the late winter when the temperatures are starting to warm I cut the foliage back and toss it in the compost bin and to get the garden ready for the next show!
There are five things I try to do to help with spring planning, do you have any other ideas to add to the list?