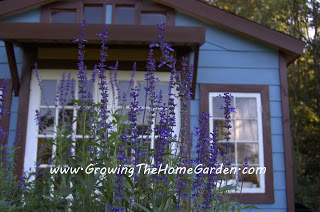 Another month has begun and the list of chores keeps mounting. September's To-Do List didn't get completed and those items may need attention in my garden this month too. The weather is nothing short of stunning in October with warm sunshine and cool days, and as long as time is available gardening is a top priority!
Here's what I need to do in my October Garden:
Clean-Up – this is by far the task that will take the most time. The vegetable garden is one of the primary areas that needs cleaning. The last of the tomatoes are hanging on, a little too green for sandwiches and canning but not bad at all for fried green tomatoes! There is still time to for them to ripen I'll just have to keep an eye out for frosts in the forecast. Our first frost usually happens here in Tennessee within the last two weeks of October.
Build my cold frame structures – I'd like to get two 4'x8′ PVC cold frames put together. One to go over some perennials in my holding bed and the other to use in the vegetable garden.
Plant any last minute additions to the garden!
Gather Seeds!
Propagate evergreens – The semi-ripe cuttings of many evergreens can be taken. With the weather still somewhat warm the plants will get a head start on rooting before the dormant season comes along.
Clean out the shed – it's a mess, a big mess! I need the room for overwintering plants. I also have a couple of countertops in there that need fashioned into shelving and shed countertop work spaces.
Buy bulbs – It's time to buy bulbs but not necessarily to plant. I'll wait until November to plant and have gone as late as December with some bulbs.
Plan – I need to evaluate how the garden did this year and write down anything that needs adjusted.
Mulch – Is there ever a time when you don't need to mulch?
Get Compost – The vegetable garden is in need of some refreshing compost.
Gather and process leaves – Leaves will be falling from the trees which means organic matter for the garden! I'll use some as mulch and add the rest to either the compost bin or the vegetable garden. I like to grind it all up with my bagging mower first.
Enjoy the season!
What's on your October Garden To-Do List?