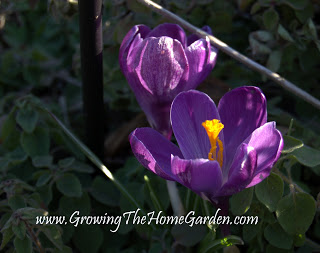 Purple Crocuses
This are warming up again around our Tennessee garden this February. While I'm writing this post spring-like storms are pouring down outside. February again seems more like March than February! But that's how it is sometimes with our weather patterns in TN. We get some crazy stuff sometimes. The unseasonable warmth has given rise to many things that would normally be postponed until later. Some plants seem right on schedule while others are early – too early. For today's post here is a quick look around my garden at what's happening!
Blooms from daffodils in the Japanese maple garden are brightening up our patio area!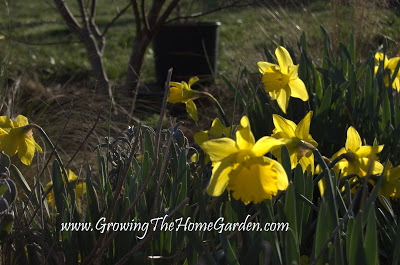 The daffodils in the Japanese maple garden
More crocuses are beginning to emerge in one of our front gardens.
This 'Autumn Joy' sedum is sprouting new growth. 'Autumn joy' has a tendency to flop over in the summer. You can reduce that from happening some by trimming it back in mid to late spring.
Here's a mass of cilantro that was planted last fall from seed. Check out this post for more growing tips on cilantro – it's an easy herb to grow!
The forsythia is almost ready to bloom. Here's one flower that is just about open. Blooms are coming along at breakneck speed!
A peach tree I planted last spring is loaded with flower blossoms. It may need some help this year. Deer visit us in the night, frosts may be coming, and who knows what other ailments may arise. Peaches are picky!
The following picture is my favorite of this post. The frost crystals on this viburnum are highlighted by the morning sunshine from the other morning. Very cool – more ways than one!
How's spring coming in your garden?