I do a lot of thinking. Too much probably but I have ideas and they have to work themselves out in my head or in the garden one way or another! The gardening "off-season" is when I plan. It's when I take those thoughts in my head and entertain them before discarding the impractical ones. You know, like the idea of encompassing our whole 1.3 acre yard (house included) in a giant greenhouse to garden in year round. That probably won't work out…but other plans will.
The first thing I usually plan out is my over the winter garden purchases, mostly notably choosing the seeds I want to grow. I use seeds to grow all my vegetables and herbs but also to grow my business. Winter is also a great time to purchase bareroot trees and shrubs. I'm considering some fruit trees that might be different from what we can find in the local nurseries and stores. I also need something to replace a plum tree that a local buck decided to scrape clean of bark. (Here's what damage deer can do to a tree.) Bareroot trees are shipped dormant and have very little risk of transplant shock.
I also have some project ideas. One idea is to build a portable mini-greenhouse. When I was setting up and researching to build my small Harbor Freight greenhouse I read in many forums that no matter the size of the greenhouse you will always need more space! This is very, very true. My thoughts involve using corrugated plastic roofing material that is clear to cover the mini-greenhouse. If my plan works out nicely it will add about 24 sq. ft. of greenhouse space for each mini-greenhouse I put together.
I also need to plan for my garden's biggest pest – the deer. They decimated my plants this past year. The don't bother anyone else near us, just my garden. Perhaps we are just the first and easiest grazing area to get to after they emerge from our tree line. Now if I had that greenhouse over my property I wouldn't have to worry…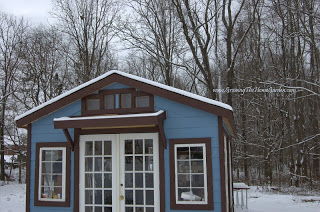 In the "offseason" there are also many hardwood cuttings to take. Evergreens and shrubs do very well from cuttings this time of year. Currently I have arborvitae cuttings in my shed but I hope to get some maple and sweetgum cuttings rooted over the winter. I've never tried sweetgum trees from cuttings before. I know they can be messy trees but the fall color is well worth it to me.
More ideas will fill my head over the course of the winter. Some I'll get to, most I won't, but the "off-season" is for dreaming and planning about the garden. And that's just what I'll do.