Today was beautiful. The sun was out and the temperature was in the low to mid 60's. That's what I call perfect garden weather! I didn't have much time to garden but needed to do a little something and was able to spend about 30 minutes on a small project. Back in the fall I used my black tarp technique to cover an existing bed and the results were great!
The black tarp technique helps to kill off vegetation underneath it. It triggers seed germination, growth, then kills the plants off leaving a nearly weed free environment. I learned this technique after reading The Market Gardener (Amazon Aff Link) and it really works. It took me less than 30 minutes today to move the tarp to a new location in the garden, rake the dead weeds out, level the soil, and sow new seeds! It's really very simple. I didn't till the ground so I did not disturb the soil ecosystem in any significant way.
In a couple weeks I can do the same to the new section of ground I covered and continue my way around the garden. The black tarp technique works really well with succession planting and really makes it easier to get the garden started. The tarp could easily fit on either a raised bed or an in ground garden. You can read more about using a black tarp in the garden here.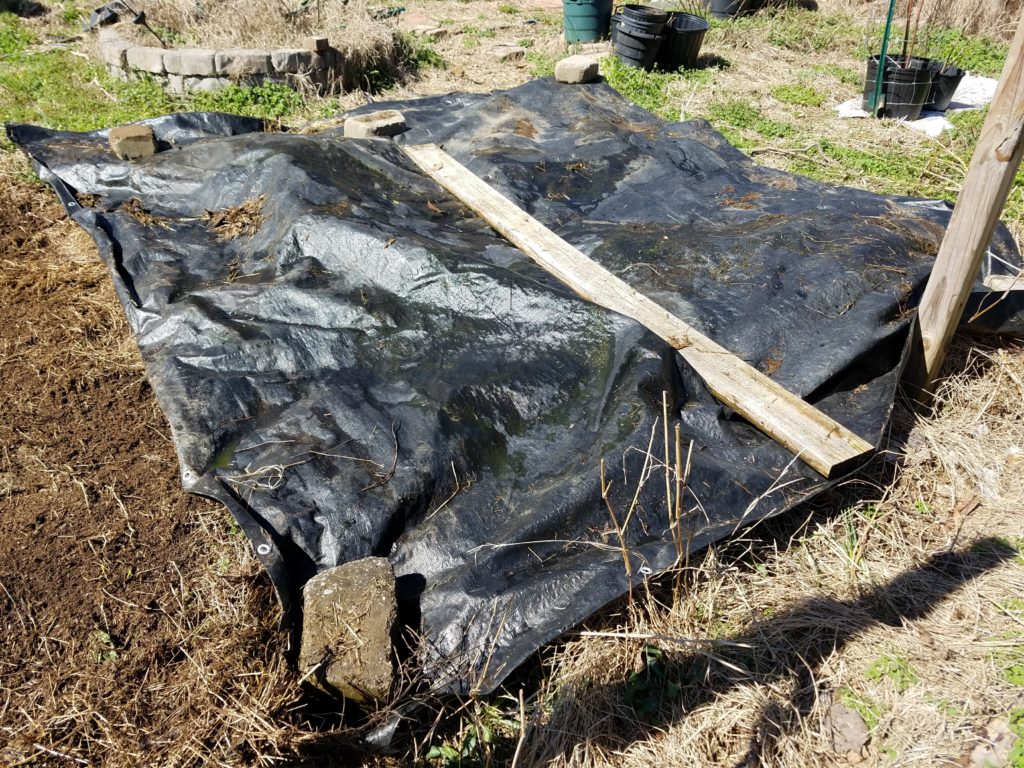 What plants did I plant today?
Today I planted seeds for cilantro, spinach, lettuce, kale, mustard, and dill in the garden. We're expecting rain tonight so these seeds should get a good watering in to trigger germination.
Cilantro loves starting in cooler weather and tends to bolt when it gets hot so now is the perfect time to get the seeds in the garden. The others are semi frost tolerant too and should do alright in the garden at this point in Tennessee!
What's next in the garden?
This week I'll be sowing seeds for peppers, tomatoes, eggplant, basil, and a few other warm season plants. Some of them will be ornamental.
In a couple weeks we'll be planting potatoes and another succession of greens.
We're in zone 6b-7 of Middle TN so make sure you calibrate to your zone before deciding to plant on my schedule! We also have an additional issue to factor in with a hillside that blocks late afternoon sunlight. That's great for the summer, we stay cooler, but we're in a frost pocket which we have to plan around.